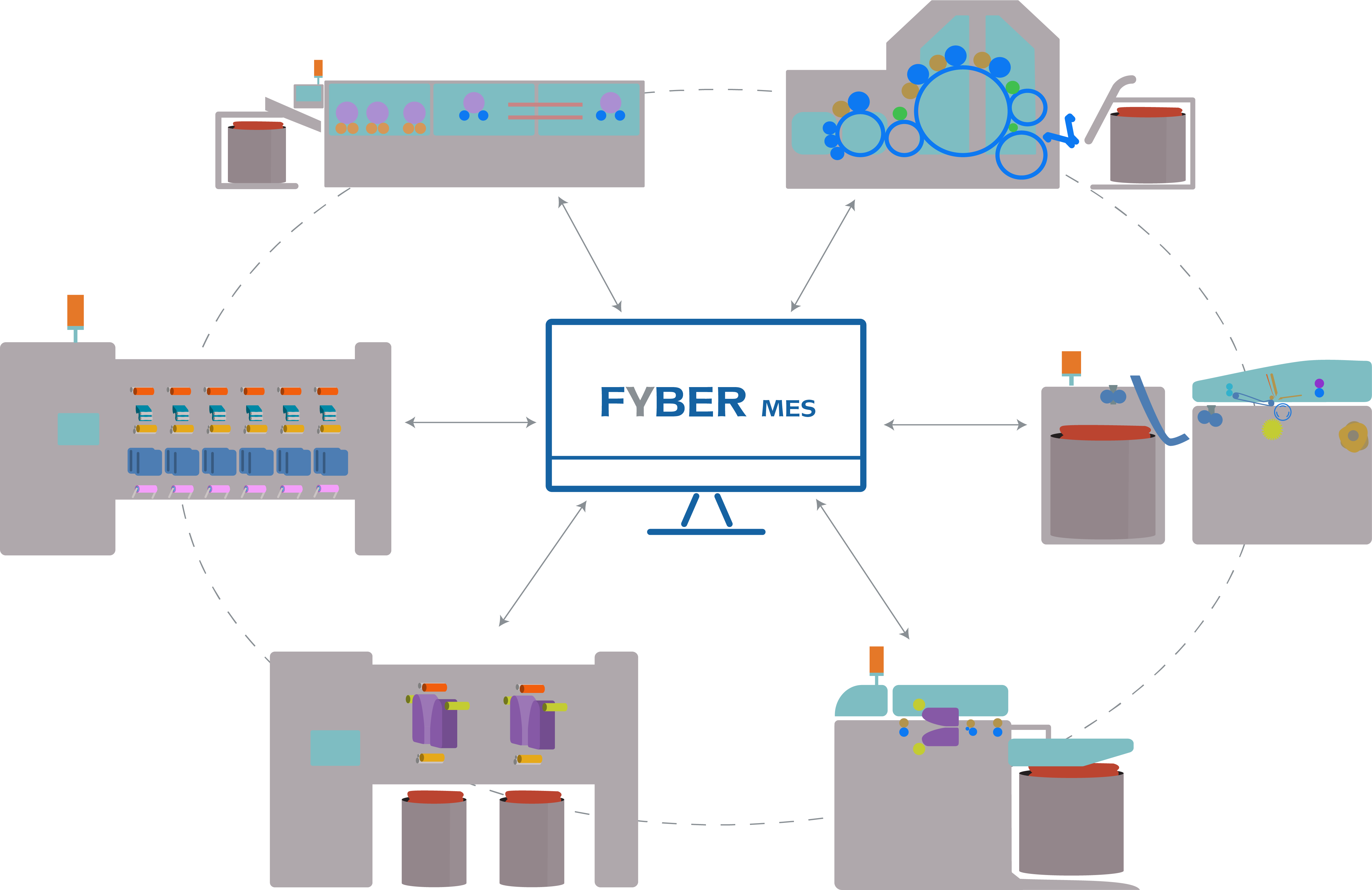 FYBER MES (Manufacturing Execution System) is an information system for textile production.
Firmly focused on the Industrial Internet of Things (IIoT) and Industry 4.0, n. schlumberger propose an upgradable and multifunctional modern system. The new management interface for n. schlumberger machines is shared and unified thanks to OPC-UA protocol. Paired with the new 50 series, it is possible to make the most of the capabilities of these new machines via FYBER MES.
FYBER MES is a real Industry 4.0 tool, increasing operational efficiency while being a time saver.
A large amount of data is collected, analysed and processed quickly so that it can be used efficiently. This allows enhanced overall productivity thanks to interconnected machines. This data provides an overall and detailed vision of shift teams, machines and production lines in order to monitor textile productions in progress on a factory floor.
An optimized workflow is possible thanks to the data analysis, allowing cost reductions but also reduced downtimes and setting times. Therefore, settings can be uploaded instantly onto machines. It makes it possible to avoid errors that can happen when the process is done manually and saves paper used to print the settings.
The precision of the data collected and processed makes it possible to take corrective action in real time and to evaluate their effects. FYBER MES is able to give feedback and log production data. The experience gained during production operations can now be exploited for future productions.
In addition to the modernization of a production line, FYBER MES boosts industrial competitiveness regarding competitors with an innovative and high-performance product.
FYBER MES is available even without having the 50 series machines. Indeed, it can be installed on some older machines but the most advanced features will not be available due to the lack of electronic parts.
FYBER MES is highly customisable according to each customer's needs. Moreover, due to the « no-code » approach of this application, the customer will be able to do their own customisation and change it at any time.
Furthermore, FYBER MES is an evolving system which can be upgraded in order to follow evolutions of industrial equipment and remain a state-of-the-art product.
The various option packs available now are: